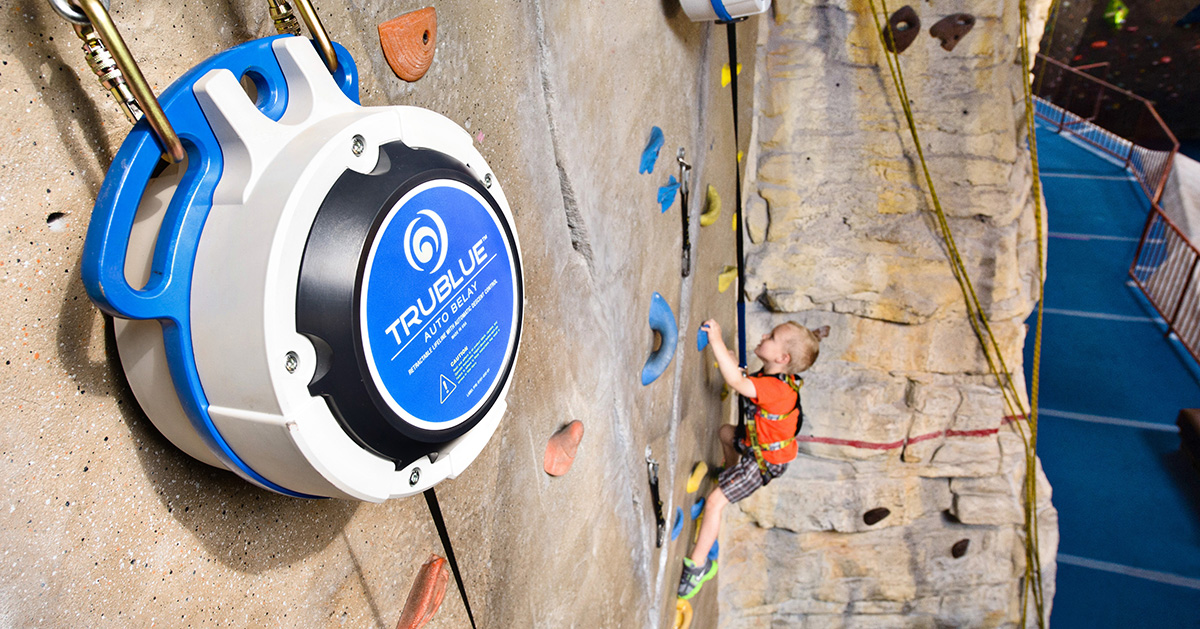 Designing climbing walls for these facilities presents a unique problem. One of the reasons is that a large portion of their primary user base—children and young adults—have never climbed before. The sheer volume of people trying to use the climbing wall is frequently much higher than in a regular gym setting, which presents an additional obstacle.
How can an FEC owner or operator make sure that such a youthful and inexperienced user group has as much fun and excitement as possible while yet keeping a safe atmosphere and remaining profitable?
The TRUBLUE Auto Belay is the TRUBLUE Auto Belay for several FECs. TRUBLUE has established a reputation as the most dependable brand in gym climbing over the past few years. Fortunately, TRUBLUE's best-in-class technology also makes it well suited for children and early teenagers at Family Entertainment Centers, though not always for the same reasons. TRUBLUE is a favored training tool for seasoned rock climbers.
Protection from the unpredictable
Children are erratic. Anyone who has ever stepped foot inside an FEC is aware that things can spiral out of control very fast given enough room and freedom to play. Going to an FEC is enjoyable because of the yelling, scrambling, and euphoric chaos—unless, of course, it's your responsibility to keep everyone safe.
It's a tricky art of balance. What can you do to maximize enjoyment while also maintaining the highest levels of safety?
Adding more employees would be one solution. Unfortunately, the budgetary disadvantages of this technique are readily apparent, not to mention the additional hiring procedures, documentation, and training needs.
No of the level of expertise, skill, or chaos among the climbers, a small crew may control numerous climbers at once by installing TRUBLUE Auto Belays. Furthermore, as any seasoned FEC operator will attest, the level of confusion can rise to extraordinary heights.
This is due, in part, to the fact that for many young climbers, the descent may be just as thrilling as the ascent. The issue is that it's difficult to predict how they will adjust. Kids all too frequently jump, rocket, or throw themselves from the wall instead of easing their way back down.
TRUBLUEs, fortunately, are approved to guard against dynamic motions. Because of this, the TRUBLUE Auto Belay's revolutionary braking technology will deliver a gentle, comfortable catch before lowering users back to the ground safely, regardless of how, when, or why they choose to begin their descent.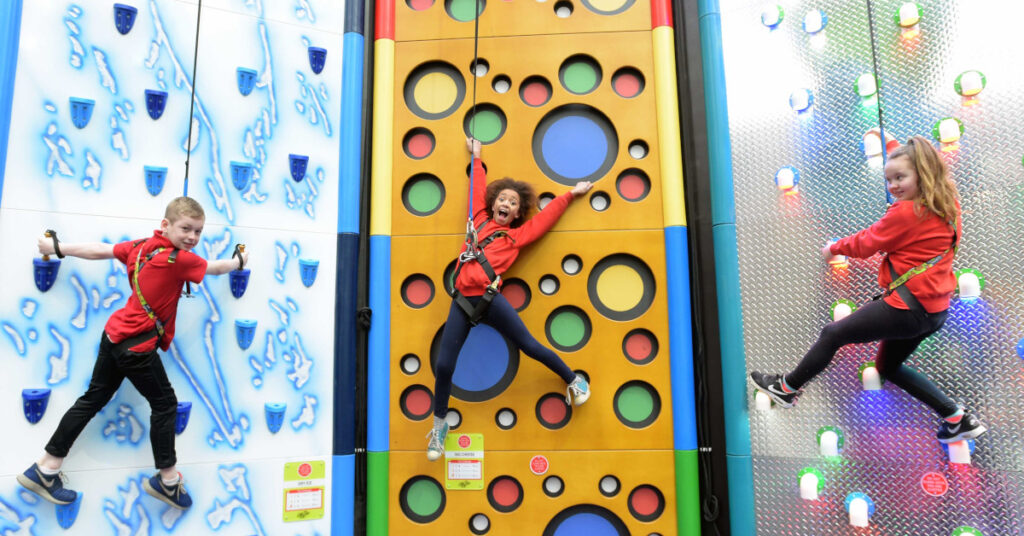 Magnetic brake technology with a patent
TRUBLUE employs magnetic braking to smoothly and reliably control a user's rate of descent rather than depending on brake pads, which deteriorate over time and are not approved for dynamic movements.
The use of magnetic braking has a number of benefits. The most important of these is that magnetic braking is incredibly dependable, even at high speeds and with heavy loads. Although magnetic braking is exclusively used by TRUBLUE in auto belays, it is a common feature of high-speed trains, roller coasters, and elevators.
Due to the magnetic braking technology, TRUBLUEs can operate more smoothly and continuously even at extremely high cycle counts. TRUBLUEs require little upkeep because they don't rely on friction but rather opposing magnetic forces. Additionally, they don't make use of any sacrificial components, such as brake pads, which require regular replacement.
Confidence building for users, one descent at a time
The fact that magnetic braking systems are self-regulating is an added advantage, particularly when FECs are involved. The rate of descent is constant regardless of the user's weight.
For instance, a parent and their seven-year-old child may both start descending from the top of the climbing wall at the same moment, and they would both arrive at the ground simultaneously. This constancy can be quite reassuring and promote user confidence, especially for novice and inexperienced climbers.
Advanced tools for secure climbing in fecs
Here are some other functions and accessories that Family Entertainment Centers may find useful beyond the basic climbing capabilities. Belays Oneself
Self Belays are an excellent tool for adding an extra degree of security and operator control, especially when working with young and unpredictable climbers. Instead of using a carabiner, the Self Belay operator locks the climber's harness to the auto belay using a specific key, preventing any unintentional releases or clipping mistakes. The operator can then unlock the Self Belay and secure it to the following user after that person has finished climbing.
No Delay Belay
All recreational car belay devices must pass a necessary annual service check to maintain compliance with third-party safety certifications. This process is quite inconvenient for many facilities, resulting in weeks of downtime and harming business.
To address this issue, we created the unique No Delay Belay application. With No Delay Belay, you receive a freshly serviced device before your existing one is due for care, preventing downtime and maintaining the efficiency of your FEC rather than mailing your device and then waiting for it to be serviced.
Protection from spin
The Self Belay is one of many authorized TRUBLUE connections that are swivel-attached to the webbing. Users can spin as a result of this without causing the webbing line to twist or kink. This functionality also makes a variety of other opportunities for FECs possible, from balance components and ropes courses to unique attractions.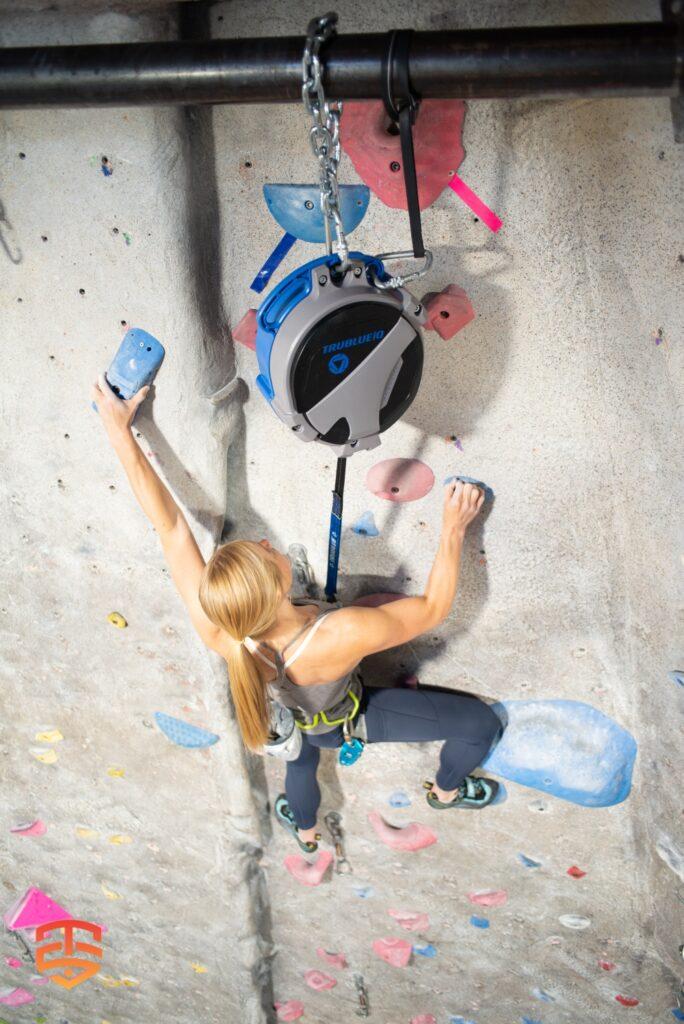 Vertical Auto Belay systems
Grow your climbing community by providing more access to more routes for more climbers.
Auto Belay makes climbing simple and approachable, turning first-time users into return customers. TRUBLUE Auto Belays are engineered to minimize maintenance and are built to last. Our patented magnetic braking system, delivers the smoothest user experience, the highest level of reliability, and dramatically reduces device downtime.
Additional expert Information regarding Auto Belay technology
Interested to read more about the Auto Belay technology and expert opinions?