Description
The zipSTOP braking device will change the challenge course business for the better. The zipSTOP uses a self-regulating magnetic braking technology to safely and gently stop zip line riders. The zipSTOP will meet a vital requirement for zipline operators by allowing passengers to safely brake at high speeds.
The zipSTOP SPEED is best suited for faster rider arrival speeds up to 72 kph (45 mph): The zipSTOP Zip Line Brake is the best brake for your zip line. It employs self-regulating eddy current magnetic braking technology to stop zip line riders smoothly, comfortably, and consistently.
What Makes the zipSTOP Speed Different:
The zipSTOP SPEED utilized an internal reduction in addition to an external 2:1 reduction system to smoothly arrest riders at the highest arrival speeds of any zipSTOP brake. This device must be used with an external 2:1 reduction line setup. The benefits of the SPEED include higher arrival speeds, improved automatic reset, and a smooth braking experience.
The assembly includes:
zipSTOP Zip Line Brake device
Brake trolley (depending on selection)
Mounting bracket and hardware
Key zipSTOP Speed Benefits:
Eddy current braking technology adjusts automatically to ensure a smooth rider deceleration.
Allows for a wide variety of rider weights and speeds.
Automatically resets after each rider, minimizing human error.
Helps mitigate risk by removing human error from the rider or guides.
Low cost of ownership.
Able to withstand outdoor environments and work consistently in any conditions.
Specifications
Rated Working Capacity: 15 to 150 kg (33 to 330 lbs)
Device Weight: 23.5 kg (52 lbs)
Model Number: ZSSD150-20A
Rated Working Velocity: 0 to 72 kph (0 to 45 mph) utilizing a 2:1 reduction*
*This device must be used with external 2:1 reduction.
Line Specifications
Maximum Line Extension: 20m
Zipstop SPEED Annual Service
To maintain your zipSTOP SPEED Zip Line Brake warranty and ensure compliance with safety standards, all devices must undergo an annual service. Service is an annual process to make sure that your zipSTOP SPEED is operating properly and any worn parts, like the webbing, are replaced. Servicing your zipSTOP SPEED on time helps to maintain the warranty and maximize performance. Annual service is also mandatory to ensure compliance with safety standards like CE and ANSI. The zipSTOP SPEED Annual Service fee is €450,00.
How to select the right zipSTOP Device for your zipline setup
Select device model/reduction ratio which has a maximum device speed higher than the maximum arrival speed in all conditions. Maximum device speed must be sufficiently higher than maximum arrival speed to account for variability and other factors.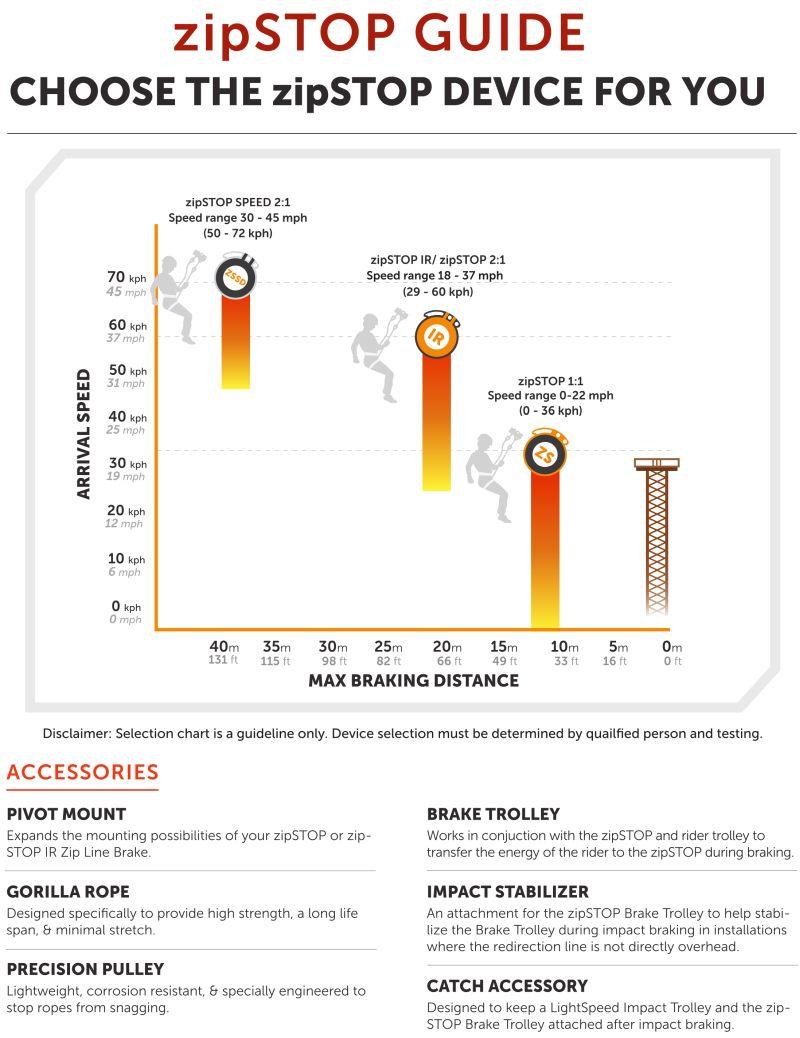 Additional expert Information regarding Zipline technology
Interested to read more about Zipline technology and expert opinions?